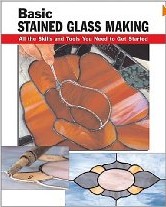 Basic Stained Glass Making: All theSkills
and Tools You Need to Get Started
This highly detailed guide contains everything the beginner needs to know to make beautiful basic stained glass projects -- presented with lavish colour illustrations and precise instructions that eliminate the guesswork from each step-by-step activity. Expert techniques and tips for cutting and polishing glass, tracing patterns, soldering, and more are explained with the beginner in mind. Included is an indispensable section on tools and materials used to make each of the pieces -- from classic flat-panel creations to a Tiffany-style lamp. Other topics: setting up a good workspace, safety guidelines, and project variations.
Spiral-bound: 96 pages
Publisher: Stackpole Books
Dimensions: 11.1 x 8.7 x 0.6 inches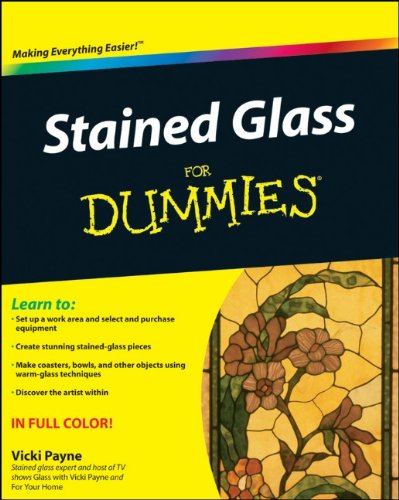 Beautiful stained glass is not reserved solely for church windows. From setting up a work area to selecting and purchasing equipment and materials, this handy guide gives you the tools, tips, and expert advice you need to express your creativity around the home and make beautiful stained-glass projects that can be used anywhere. Learn art glass basics, including the different types of glass, how to assemble your tools and set up your work space. Explore stained-glass techniques including both copper-foil and traditional leaded-glass techniques and projects. Cut your glass, know how to use a pattern, cut your glass pieces to fit it, and fine-tune your glass shapes. Learn soldering basics, become a first-class solder master with a healthy and safe work environment.

Paperback: 336 pages
Publisher: For Dummies
Dimensions: 8 x 10 x 0.7 inches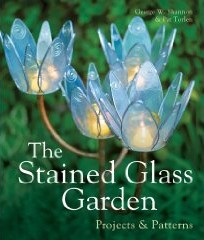 The Stained Glass Garden: Projects & Patterns
Grow a glass garden—and beautify any space with the exquisite decorative items you've created. George W. Shannon and Pat Torlen, two master teachers and artists who run the On The Edge Glass Studio, offer an array of glorious patterns for stained glass flowers, butterflies, birds, birdfeeders, planters, lanterns, and mobiles. Using dozens of close-up photos, they teach all the basics of both copper foil and lead came construction, from materials and tools to how-to techniques.
Hardcover: 128 pages
Publisher: Sterling/Tamos
Dimensions: 10 x 8.6 x 0.8 inches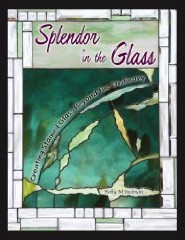 Splendor in the Glass: Creating
Stained Glass Beyond the Ordinary
Splendor in the Glass; Creating Stained Glass Beyond the Ordinary, certainly lives up to it's name! Not your ordinary, ho-hum, tired out, worn out, over done, been-there-done-that, future yard sale project book! This delightful, 120 page, fact filled book, with over 23 full-color, uniquely different projects (there's no conventional theme here) and over 45 Design, Color, and Tech tips inspires exploration, experimentation, and nonconformity in your design process.
Holly Stedman has enjoyed stained glass crafting for over twenty years. While Holly creates her own designs, most of her friends involved in glass are married to pattern books, claiming they aren't creative, don't know what they want, or just don't know where or how to begin. Splendor in the Glass helps those design and make stained glass like they have never before - and love it! While the projects presented may be reproduced, (scaled patterns are included) you are continually encouraged to detach from the printed pattern and improvise, modify and expand your thinking. Consider these projects as a starting point from which to create your own special masterpieces. It's refreshing to read the engaging, candid narrative included with each project. How, why, who, or what actually inspired each piece, and hurdles or problems encountered during fabrication are shared in a fun, non-tecky, conversational tone.
Splendor in the Glass will be sure to stimulate and help develop your creative ability; takes out the dregs, and adds the fun in creating designs beyond the ordinary.
Perfect Paperback: 120 pages
Publisher: Red Rocks Publishing Co.
Dimensions: 10.7 x 8.3 x 0.4 inches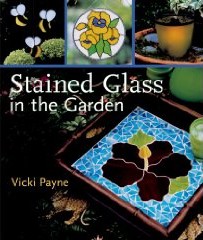 Vicki Payne, internationally recognized craft and home improvement expert and the host of two national television series, helps crafters bring the irresistible sparkle of stained glass outdoors and into the garden. With its magnificent variety of textures, patterns, and finishes, these projects showcase the versatility of glasswork—and prove how easy it can be to create eye-catching flowerpots, lanterns, stepping stones, tabletops, birdbaths, fountains, and other attractive accessories. Payne outlines all the tools and supplies needed to start out, along with time-honored techniques for making glass, mixed media mosaics, panels, and three dimensional objects using the copper foil method. If you thought working with stained glass would be too difficult and time consuming, this book will make you think again!
Hardcover: 128 pages
Publisher: Sterling
Dimensions: 10.1 x 8.8 x 0.7 inches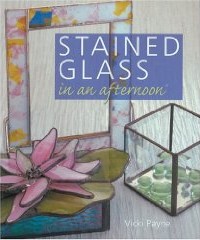 Colorful panels, window ornaments, terrific tabletop accessories, gleaming garden cloches: if you've admired the beauty of stained glass, but thought it was something you couldn't make—think again. Not only are the techniques for both copper foil and mosaic stained glass completely demystified here, but each of the 25 projects takes only an afternoon to complete. You'll quickly learn how to choose supplies and tools, and to prepare, cut, assemble, solder, frame, and finish—everything needed to craft your own glasswork. Start with a Tulip Panel, the perfect, simple first project. Apply glass nuggets to adorn a frame. Brighten up the home with a Sunflower Clock and graceful Dancing Women Candleholders. Plus: corner accents, beautiful boxes, bird baths, and more.
Paperback: 128 pages
Publisher: Sterling
Dimensions: 9.8 x 8.4 x 0.5 inches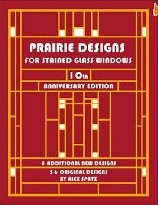 Prairie Designs for Stained Glass Windows
This is the only book that I know of, to date, in the stained glass industry of original prairie style window designs. I learned about Frank Lloyd Wright in the early 90's when I had to do research on his style in order to design lamp- shades for my employer. I was really taken by his "prairie style" of design and felt a connection to my own work. Making the designs for this book was a joy because I really like this style of design.
Paperback: 48 pages
Publisher: Cliffside studio
Dimensions: 10.7 x 8.5 x 0.3 inches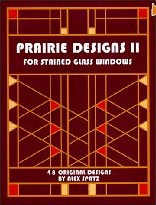 Prairie Designs II for Stained Glass Windows
"Prairie Designs II" is the sequel to "Prairie Designs for Stained Glass Windows". Like its predecessor, it contains 48 original Prairie window designs in rectangles, circles and free-form shapes in a variety of complexities. It is different in that it develops motifs, such as triangles, in different ways and that it gives a prairie interpretation to real-life objects, such as flowers and plants.
Paperback: 40 pages
Publisher: Cliffside studio
Language: English
Dimensions: 10.7 x 8.4 x 0.1 inches