| | | |
| --- | --- | --- |
| | Luther Rose Stained Glass Panel | |


Below is a Luther Rose Stained Glass Panel, custom designed for Abiding Peace Church,
Budd Lake, New Jersey. This design is very faithful to the widely accepted Luther Rose used
by many congregations. It measures 16" in diameter and has a sturdy oak frame. This panel
has special reinforcing strips built into the seams so it will stand the test of time. If your
congregation is interested in owning a panel like this, please call us at 1-800-400-2246 to
discuss details. We are willing to make more panels with this design for your sanctuary.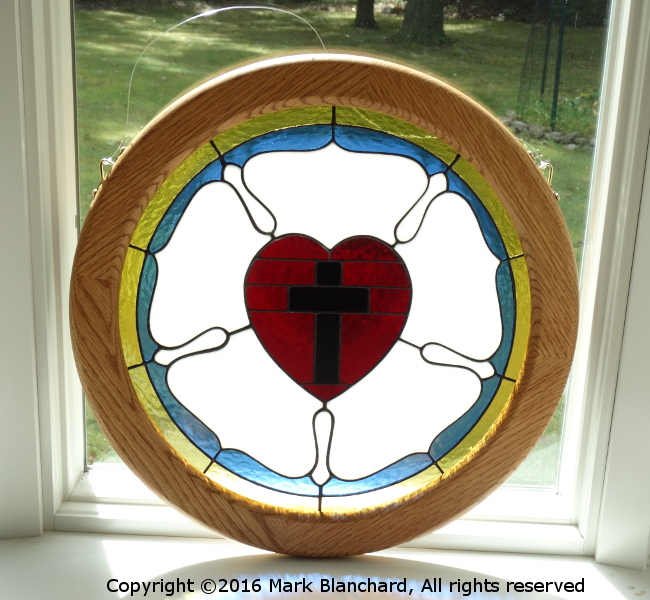 A black cross in a heart, which retains its natural color, so that we are reminded that faith in the Crucified saves us.
The heart stands in the middle of a white rose, to show that faith gives joy, comfort and peace. White is the color of
the spirits and the angels. The rose stands in a sky-blue field, symbolizing that such joy in spirit and faith is a beginning
of the heavenly future joy, which begins already, but is grasped in hope, not yet revealed. Around this field is a golden
ring, symbolizing that such blessedness in Heaven lasts forever and has no end.



Home Page | Sigma Chi | Free Stained Glass Paterns | Window Hangings | Suncatchers
Free Lighthouse Stained Glass Pattern | Window Panel | Corporate | Books | Links | Lighthouses
Suncatcher | Garden Project | Doo Wop | Covered Bridge | NJ Tall Lighthouses | Chevy Traverse
Prairie Lighthouse | Assateague Lighthouse | Portland Head Lighthouse | Chincoteague Island
Above Down Inside Out | North Carolina Tall Lighthouses | Space Shuttle | Tugboat
Custom Stained Glass Panels | US Stained Glass

Thank you for visiting one of our other web sites